Kudara BBQ Restaurant Kabuki-cho Shinjuku Tokyo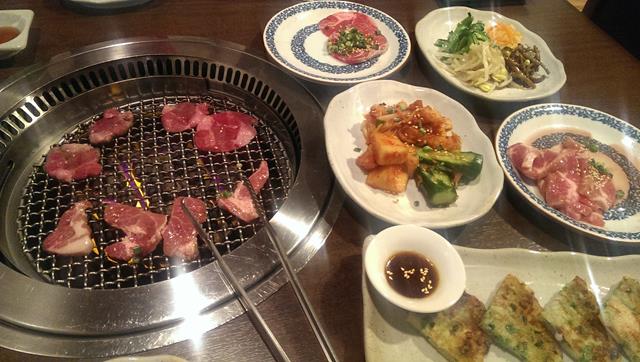 Kudara BBQ Restaurant in the back streets of Kabuki-cho, on the eastern side of Shinjuku train station is a great BBQ restaurant set in an old traditional wooden Japanese house.
Kudara is a Korean BBQ restaurant or a yakiniku restaurant (grilled meat) with small gas bbq built into each table for you to cook your own range of meats, seafood and vegetables.
The set meals at Kudara BBQ Restaurant start at around 4400 Yen per person (around US$45 or A$50) or you can choose a selection of meat, seafood and vegetables from the al a carte menu. The set menu gives you various plates of beef, pork and chicken, some vegetables and all the side delicious you would expect from a Korean restaurant.
The old wooden house the restaurant is in is a 2 story building. Inside is a real traditional Japanese house. You have to take you shoes off at the front door and you are escorted to the private dining rooms with the traditional paper sliding doors.
On each table is a buzzer you ring to get the waiter or waitress to come and take your orders. They come very quickly after you pressing the buzzer.
I went in with a friend and there was too much food! We polished off plate after plate of the meat and vegetables. There is so much food but all very tasty. It is a nice relaxing dining style, to slowly cook bits of meat and vegetable and enjoy some beers and sake at the same time.
You will find Kudara right between Kabuki-cho and Golden Gai, the small bar district.
Kudara BBQ Restaurant
1-1-3 Kabukicho
Shinjuku
Ph: +81 3-5291-1585
Website: http://kudara.jp/ (Website in Japanese)
Check out the location of Kudara BBQ Restaurant in Kabuki-cho Shinjuku