Metropolitan Grill Restaurant Hilton Hotel Shinjuku Tokyo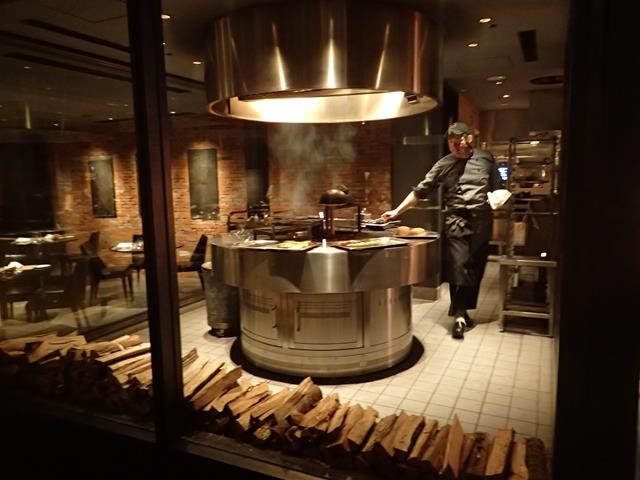 Now this is the place to come for steak in Tokyo. It is not cheap but the cuts of meat are the best I have ever had in Tokyo. Metropolitan Grill Restaurant is located within the Hilton Hotel in Nishi-Shinjuku, around 10 minutes from Shinjuku Train Station.
Located on level 2, Metropolitan Grill takes up most of this floor. When you come out of the elevators on Level 2 you walk past the stylish Zatta Bar and then the rest of the floor is Metropolitan Grill. In the centre of the restaurant is the open kitchen with the meat storage area right at the front with glass windows to see the fine quality meat hanging on display.
The steak prices are expensive. The cheapest steak is a USA grain fed Black Angus New York strip loin 250 grams at 5,200 Yen ++ (around US$42 or A$60 plus taxes and service). The most expensive steak is 1kg Japanese T-bone steak at 19,000 Yen ++ (around US$155 or A$220). This huge chunk of meat is supposed to be shared, carved up at your table, unless you are really hungry and think you can disgest 1 kilogram of meat.
I went for the meat sampler. 3 – 100 gram steaks – 1 Australian Black Angus tenderloin, 1 Australian Black Angus rib eye and 1 Japanese Wagyu Hokkaido sirloin steak. When this dish arrived I took a slice of each of the steaks to try each of them. Each cooked to perfection, all were delicious. The manager walked over and said 'I bet your favourite is the Japanese Wagyu!'. He was spot on. The wagyu was melt in your mouth material. Wagyu is defined by the fat marbled throughout the meat. Fat equals flavour! The 2 Australian steaks had a more intense flavour but wagyu was just that little bit better. At 12,000 Yen the meat sampler plate comes in around US$97 or A$138. Well worth the price!
I was tempted to try one of their desserts as throughout my meal I could see the counter where the chefs were preparing the desserts and they looked sensational. A quick look on the menu and I was tempted by a few dishes like the Strawberry tiramisu ( I usually go for a tiramisu when I see it on the menu) or the Crepes Suzette or the Metropolitan Dessert Sampler which has a mini strawberry tiramisu, a mini nameraka Milk Chocolate, orange and mango sorbet or a mini after-eight which is peppermint jelly, fresh melon, lime, cucumber, fresh mint and cocoa sorbet. After thinking hard about which dessert, I decided to pass on dessert as the 300 grams of steak had made me full!
Metropolitan Grill Restaurant
Hilton Hotel
6-2 Nishi-Shinjuku 6-Chome
Tokyo Japan
Ph: +81 3 3344 5111
Website: http://tsunohazu-hilton.jp/en/metropolitan-grill/
Check out the location of Metropolitan Grill Restaurant in Shinjuku Tokyo
[do_widget id=wpp-5]