Flight Review Qantas Manila to Sydney A330-200 Business Class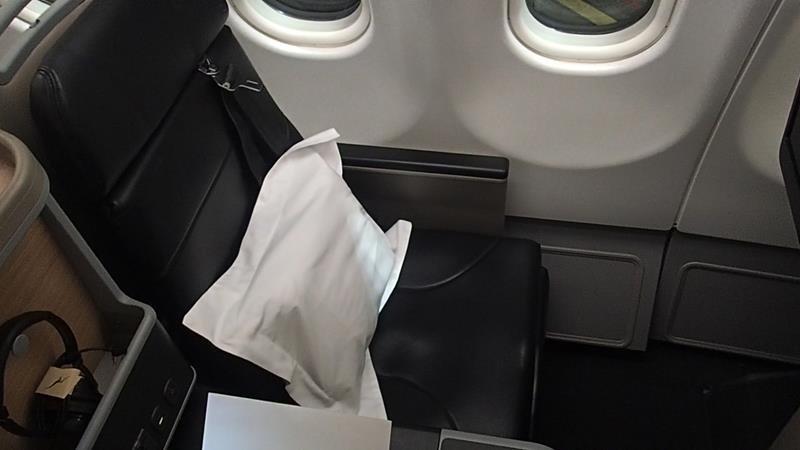 Airline: Qantas
Flight no: QF20
Route: Manila Ninoy Aquino International Airport (NAIA) Philippines to Sydney Australia
Aircraft type: Airbus A330-200
Flight time: 7 hours 22 minutes
Travel class: Business Class
Seat type: New Vantage XL seat – complete lay flat bed
Seat Width: 23 inches
Seat Pitch: 73 inches
Check out the full flight review video for this Qantas Manila to Sydney flight
At the airport: At Manila Ninoy Aquino International Airport you need to go through 4 different security checks to get onto your flight. To enter the airport terminal 1 you need to put all your bags through an XRay machine and you walk through a metal detector.
At the check-in counter before you check-in you bag are swiped for explosives. The day I checked into this flight their explosives detection equipment was broken so there was a manual search of our checked in luggage. We had to open our bags and a staff member with rubber gloves carefully went through the contents of the bags.
After check-in you go through another xray machine and metal detector to get to the departure gates.
Just before boarding the plane a security staff member opens your carry on luggage and carefully checks the contents.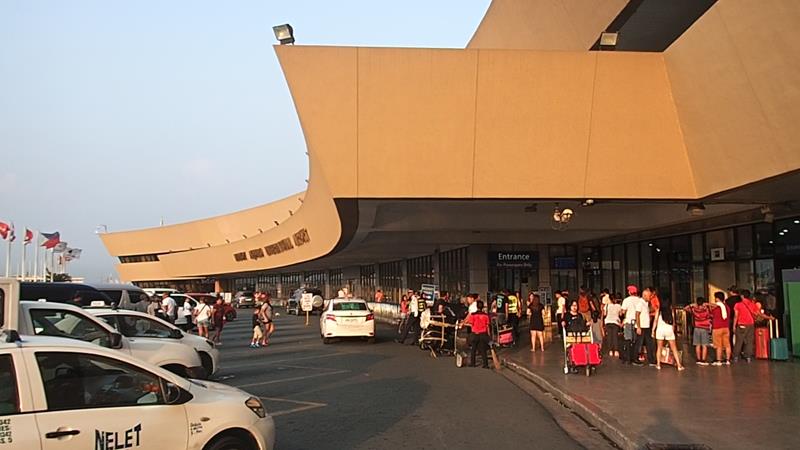 Apart from all the security checks there is not alot going on at Manila's international airport. There are only a few small duty free stores and I only saw 3 small coffee shops including a Starbucks where you could get something to eat and drink.
The Business Class Lounge: With a business class ticket on Qantas you get to go to the Qantas Lounge at Manila's International Airport. Now this Qantas Lounge is the smallest Qantas lounge I have ever seen in any airport.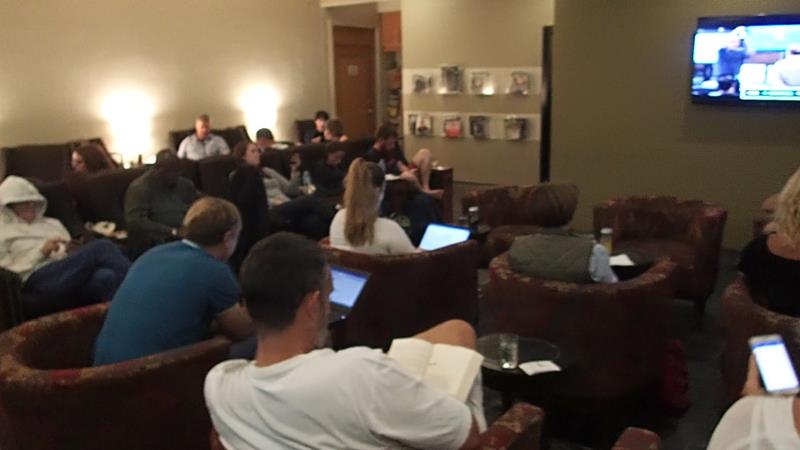 There is enough seating for around 30 people and the lounge was pretty much full when I got there. They give you a userid and password to connect to the Qantas free WiFi internet network. Manila's airport has free WiFi so you dont really need this Qantas WiFI.
They have a few different selections of food available and a fridge full of soft drinks and beers and a collection of alcoholic spirit bottles available to pour your own drink.
Inside the plane:
The seat: All the Qantas A330 fleet have had their business class cabins upgraded with the new Vantage XL Business class seats which in my opinion are the best business class pods available.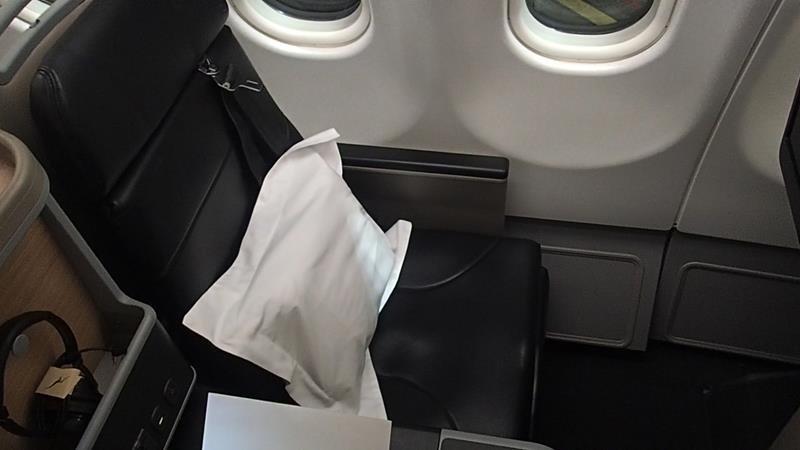 The seat is a comfy 23 inches which gives plenty of space for my ample caboose. There is a USB port if your want to watch your own entertainment and an international electrical plug to plug in and use or charge any of your electronic devices. There is also a pair of noise canceling headphones which do a pretty good job of blocking out the aircraft noise.
The seat is a total lay flat bed with easy controls to make the seat go completely flat and also to bring it back up to seated position. There is also a massage function in the chair.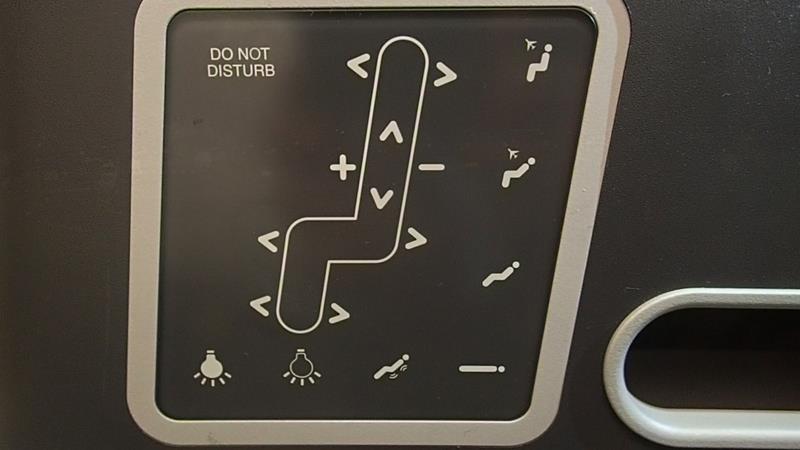 The Entertainment: Built into the business class pod in front is a nice sized 16″ Panasonic TV screen which is loaded up with hundreds of recent release movies as well as old classics to watch. There are also loads of TV series and documentaries.
The built in entertainment system also has a very nice feature of one touch button to bring up the Flight Map to see the progress of your fight. The touch of the button brings up your map and automatically pauses what ever it is you are watching at the time.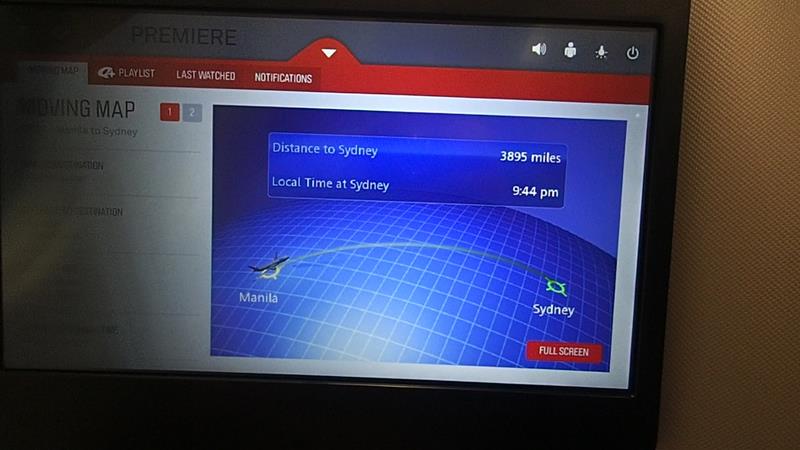 The Food: On this flight in the Business class cabin there was a choice of 4 different main meals for dinner. A vegetarian dish of Linguine with roast pumpkin, baby spinach, feta, pine nuts and sage burnt butter. A salad of roast duck with cucumber, watermelon and chilli lime dressing. A seared Atlantic cod with minted peas, polenta chips and roast capsicum sauce. And the dish that I chose, the braised coconut beef with lemongrass, coriander, lime and fragrant rice. This beef dish was delicious. The beef was so tender it fell apart with just your fork. I have said in some of my previous reviews of Qantas this year, the food on Qantas business class has seen an incredible increase in quality. I used to be very critical of the food on Qantas. What ever they have done to change the menu and the food I say 'Well done! Keep up the excellent food on board'.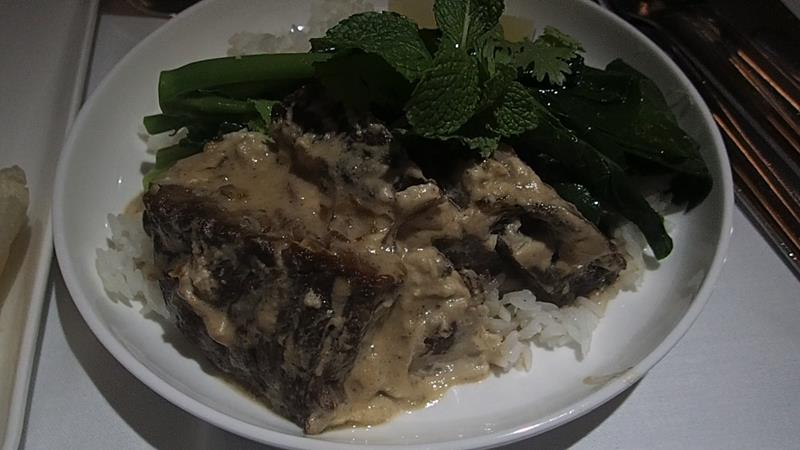 For dessert there were 4 choices –  a selection of cheese served with accompaniments. A stick rice with fresh mango, coconut cream and sesame seeds (this is the dessert I chose and it was also delicious). A selection of seasonal fruit or ice cream.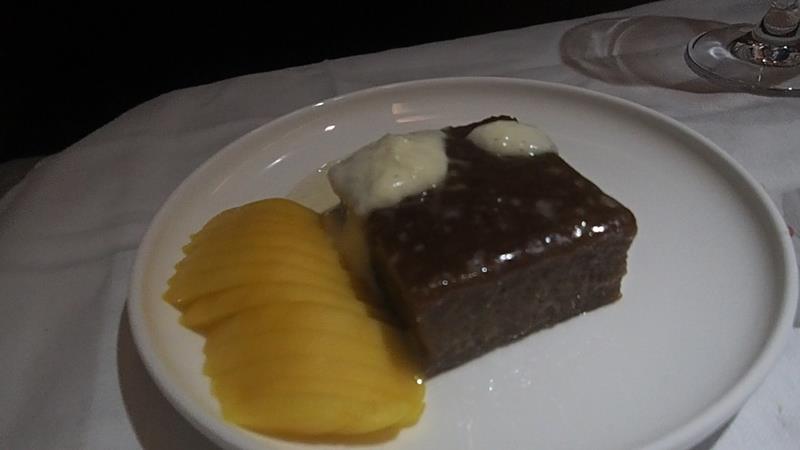 For breakfast there was a choice of fruit salad with yoghurt or a leg ham and cheese croissant. I went for the ham and cheese croissant with coffee and orange juice and it was a simple and tasty breakfast just before landing in Sydney.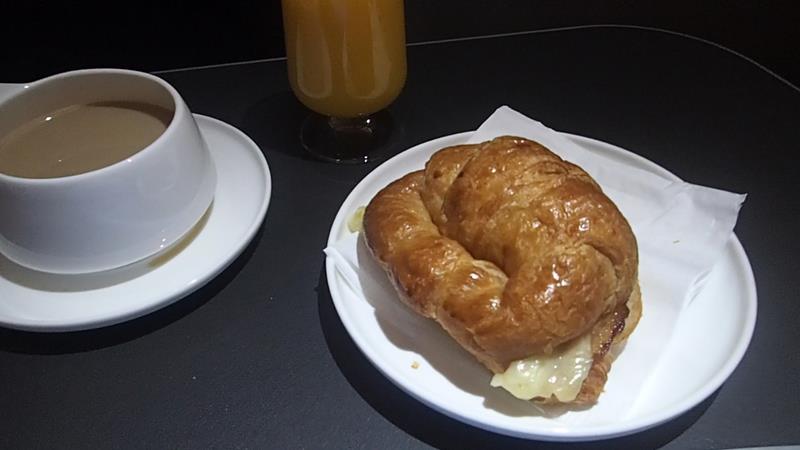 The service: I had a lovely crew on this Qantas QF20 flight. All smiles and they really made me feel welcome on board.
Before take-off they come around and give you a glass of champagne as well as a business class amenities kit which contains some ear plugs (essential items to fly with), an eye shade, a pair of socks, toothbrush and toothpaste as well as an Aspar Relax and Hydrate Travel Essentials pack which contains a small tube of hand cream, some face moisturiser and some lip balm. Again these items I always use as your skin and lips can get very dry from the planes air conditioning.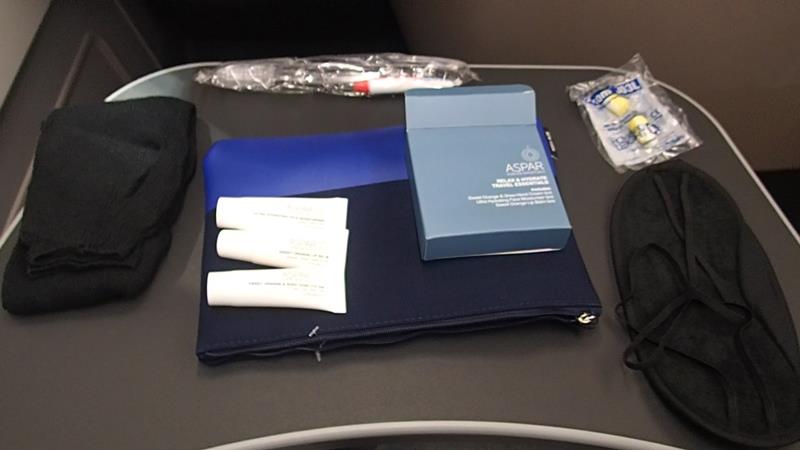 They also give you a pair of Qantas pyjamas which is another great thing to use on an overnight flight. It makes it more comfortable to sleep and you get to change back into your fresh clothes before you get off the flight.
Straight after take-off they come around and ask if you want your seat to be fitted with a mattress. This is only a thin mattress but definitely makes the seat more comfortable for sleeping on.
Another great flight with Qantas!
Check out the most popular Flight Reviews on this site:
[do_widget id=wpp-6]