Kumano Shrine Shinjuku Tokyo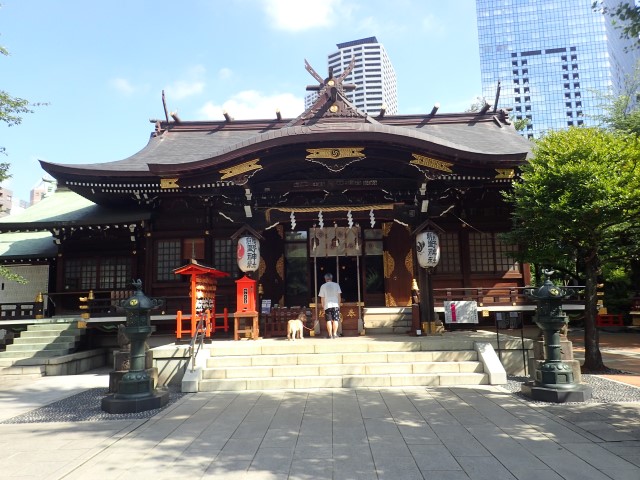 Kumano Shrine is a beautiful Japanese Shinto Shrine located in Shinjuku Central Park in Nishi-Shinjuku, around 15 minutes walk from Shinjuku Train Station. The full name of Kumano Shrine is Juniso Kumano Jinja. Kumano Shrine is located very close to the Hyatt Regency Hotel and the Hilton Hotel which are both directly opposite Shinjuku Central Park. Also at the far end of the park is the Park Hyatt Hotel.
Kumano Shrine dates back to the 14th Century and has been restored throughout the ages to keeps its beautiful appearance. Kumano Shrine is still a popular shrine for locals living in the Shinjuku area. If you visit at any time of the day, you'll see locals stop to pay their respects at the front of the shrine. If you visit in the morning you will see Japanese business men stop by in their suits to pay their respects.
Like all Japanese Shinto Shrines, at every entrance are large Torii gates. The main Torii gate is a huge concrete gate.
To the side of the main shrine is a small wooden building which is used for musicians to sit while playing their instruments during religious festivals at the shrine.
The closest train station to Kumano Shrine is the Tochomae Station on the Toei Oedo Line which you can get to from Shinjuku Station, just 1 stop. It is also around 5 minutes walk from Nishi-Shinjuku Station on the Marunouchi Line.
Check out the location of Kumano Shrine in Shinjuku