Ramen Street Tokyo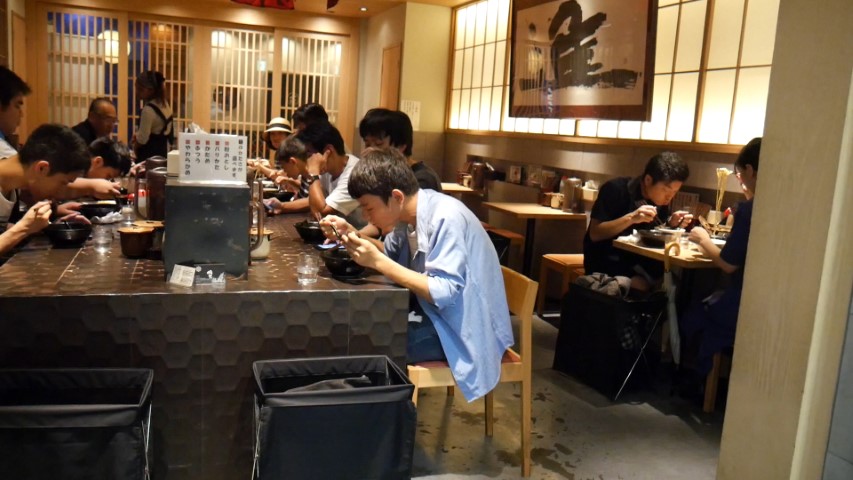 Ramen Street in Tokyo is the place to come to eat the best Ramen noodle soups in Tokyo. Ramen Street is a famous food hall located underneath the busy Tokyo Station.
Ramen Street has 8 of the most famous Ramen restaurants, serving up all the varieties of Ramen noodle soup from the various regions of Japan. These restaurants each have their own style of ramen but each of the 4 main types of ramen are covered here – Tonkostu Ramen (pork based soup), Shio ramen (salt based soup), Miso ramen (miso based soup) which originally comes from Hoikkado and Shoyu Ramen (soy based soup).
Ramen Street gets busy so expect to queue up before you get to eat. During the peak times of lunch and dinner, you may have to queue for more than 30 – 45 minutes.
At each restaurant, they have these vending machines where you purchase a ticket for the different type of ramen you would like to eat. Now it took me awhile to work this out but you need to put your money in first before you click on your option. As soon as you click, a ticket pops out. Join the queue and then when you get inside the restaurant you hand the ticket to the waiter or waitress and then patiently wait for your delicious ramen to arrive.
My 2 favourite ramen restaurants at Ramen Street Tokyo are:
The first one is Tonkotsu Ramen Oreshiki Jun which serves up the very traditional Tonkotsu ramen which is a pork based broth with
nice thick slow roasted pork. And of course it wouldn't be a ramen without a big serving of the freshly made noodles.
My 2nd favourite restaurant at Ramen Street is Gyutan Kizou which serves up Shio Ramen which is a salt based broth made from chicken or seafood stock. This one in the picture below was made with chicken broth and was delicious!
At Kizou they serve their ramen with thinly sliced beef tongue which is a popular cut of meat in Japan and something that I find delicious.
It just tastes like roasted beef.
They pack their soup with lots of other goodies like soft boiled eggs, shitake mushrooms and they have really nice thick noodles.
To get to Ramen Street at Tokyo Station, get off the train at Tokyo Station and take the Yaesu Central exit and you will see the stairs leading down to the First Avenue Tokyo Station food hall. There are loads of restaurants along this hall way but work your way down and you will find the famous Ramen Street.
Enjoy the Ramen noodle soup at Ramen Street Tokyo!