Cheap Eats in Surfers Paradise Gold Coast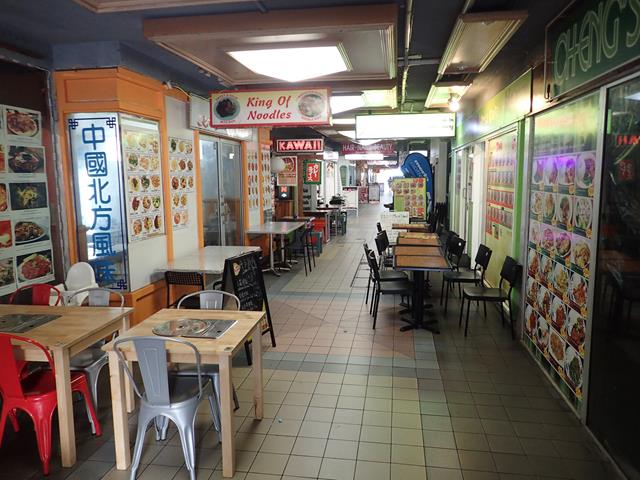 If you like Asian food and looking for some cheap food in Surfers Paradise then head straight to The Centre Arcade. The front half of the mall is full of some small, cheap and cheerful restaurants. For lunch and dinner they offer a great range of Asian food including Chinese, Thai, Korean BBQ and Japanese food. Most of these restaurants offer a lunch special which can be as low as $8.90 for a decent sized meal. The Centre Arcade is located at 3131 Surfers Paradise Boulevard, just down from the Hilton Hotel and close to the Cavill Avenue Light Rail Station. The arcade runs from Surfers Paradise Boulevard through to Orchid Avenue.
Another of my recommended restaurants in the arcade is the King of Noodles. I come here for a great bowl of spicy laksa. The chicken laksa soup is only $9.80, with seafood it is $14.80. It is not quite a traditional laksa you would find in Singapore or Malaysia but still a nice big bowl of spicy soup with laksa noodles and egg noodles and the chicken is large pieces which is tender and delicious.
Upstairs is the Uchouten Japanese Restaurant which is a fully licensed restaurant which also has BYO (wine only). Uchouten has a different lunch special on Monday, Wednesday, Thursday and Friday for $8.90 between 11.30am – 3pm. Monday the special is Karaage Don (mild or spicy), Wednesday is Sauce Katsu Don, Thursday is Katsu Curry and Friday the special is Loco Moco Don (a Hawaiian specialty which is very popular in Japan).
Other cheap restaurants in The Centre Arcade include The Siam Square Thai Art Cafe, Hakataya Ramen Restaurant, Naniwaya Japanese Ramen Restaurant, Cheng's China Bistro, the Sunny Noodle House, Thai Republic, Good Luck Dumpling Restaurant and right down in the middle of the arcade is the Stairwell Cafe which is a tiny hole in the wall coffee shop with a few tables and chairs along the arcade mall.
Just opened in August 2015 is the new Cook and Beer Korean BBQ Restaurant which has gas bbqs built into each dining table for you to BBQ a selection of meat and seafood.
Also just on the other side of the Hilton Hotel is the Caville Lane Arcade which also has a few more Asian cheap restaurants. Right on the corner, on Orchid Avenue is Rice vs Noodles which serves up some tasty rice and noodle dishes. Just next door to Rice vs Noodles is the Yum Cha Noodle Haus and a little bit further down the arcade is the Korean Kitchen which does Korean BBQ and just next door to that is Sushi Ave which is a Japanese sushi train restaurant.
Check out other Surfers Paradise Restaurants
Fragrance of India
Fragrance of India is a great food stall at 8 Eight Street Food Mall in the heart of Surfers Paradise. Serving up authentic Indian food with gluten free, msg and certified Halal food. You can get a cheap meal with 1 curry and rice for $9.95. For 2 curries, rice and papadam it is only $12.95.
Read more about Fragrance of India.