Disappointing Food at Neelam Indian Restaurant Parramatta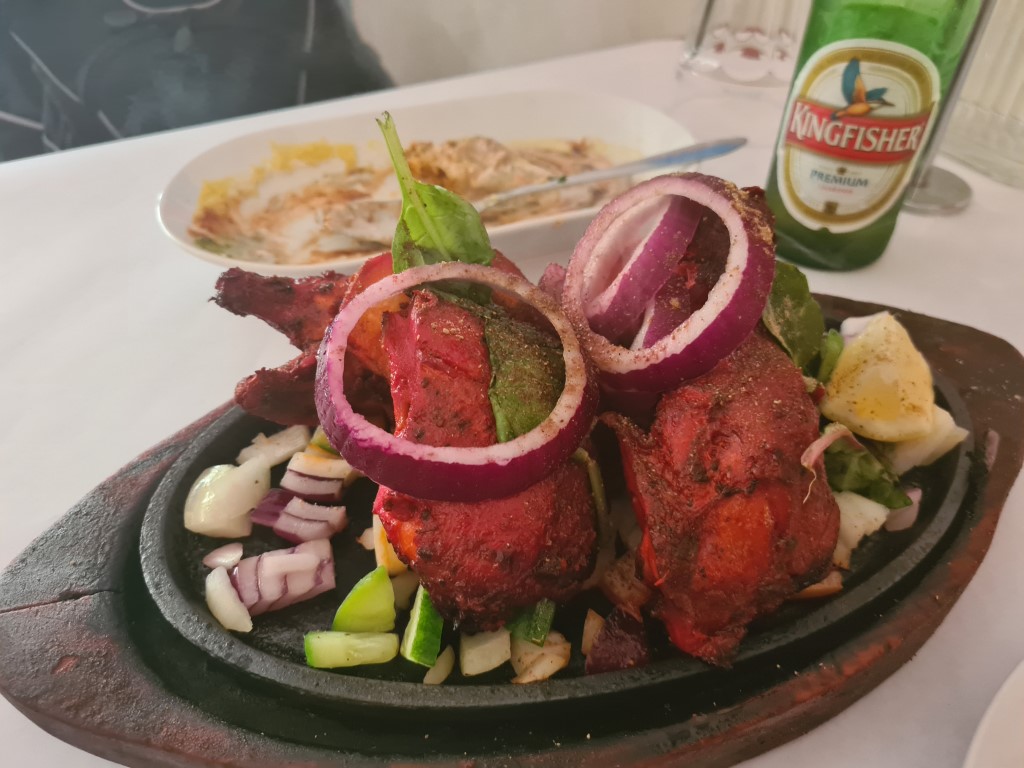 Neelam Indian Restaurant has been serving traditional Indian food in Parramatta since 2003, that is almost 20 years, a long time for a restaurant to survive. The restaurant is located on Macquarie Street Parramatta, just a few minutes walk from Parramatta Train Station.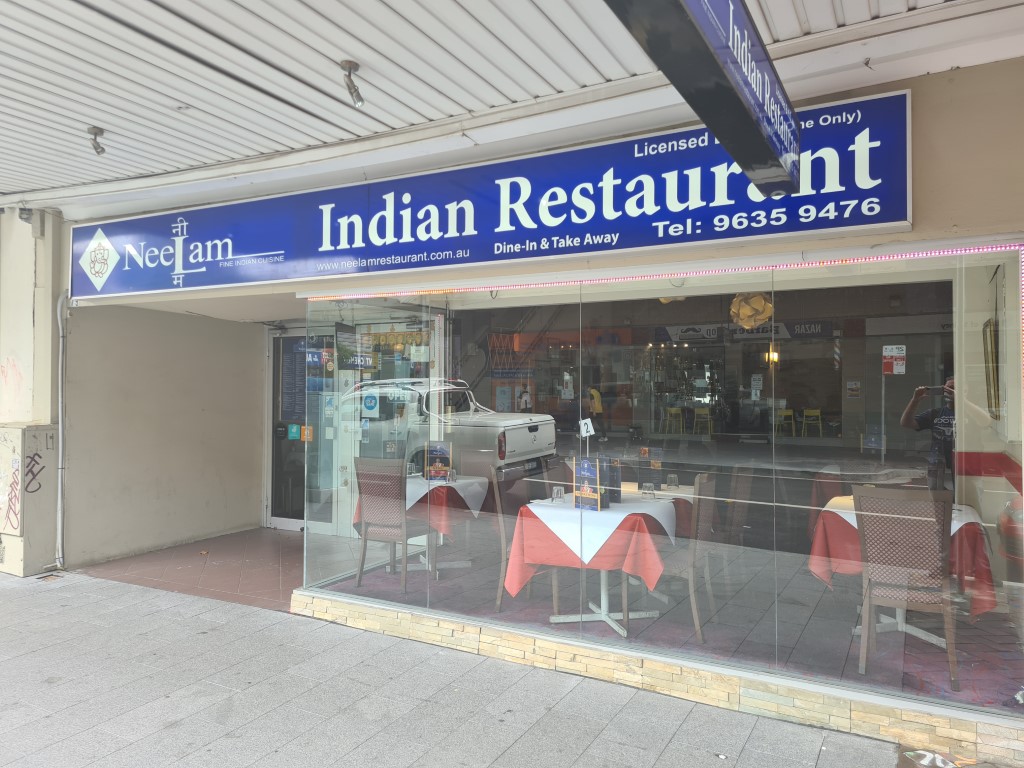 I had visited Neelam Indian Restaurant back in 2013 and had an excellent meal of Aloo Tikki (potato patties with herbs, a common Indian street food snack) and some butter chicken with garlic naan and rice. I thoroughly enjoyed this meal.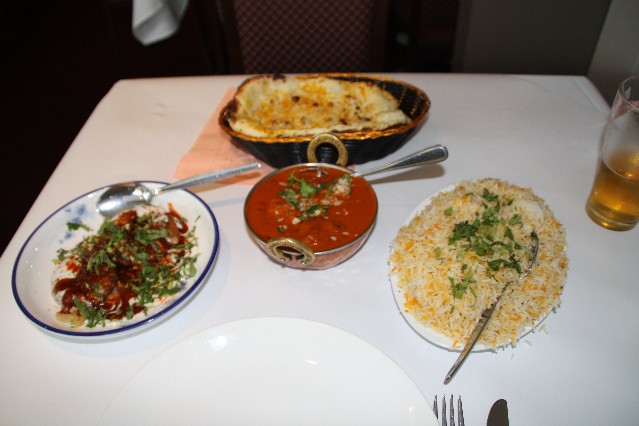 I went in again in February 2022, looking forward to some great Indian food. I was so disappointed!
I went in for lunch on a Tuesday. I was greeted by the manager and we had a great chat and he asked if I wanted a spicy curry. I had said I just wanted to have a light lunch and just have a few entrees with some naan bread. He recommended a half a tandoori chicken ($15.80). I ordered this and also ordered more of the Aloo Tikki ($8.50) which i enjoyed so much from the previous visit. I also ordered some garlic naan ($3.50) and a Kingfisher Beer ($8.50).
When the Aloo Tikki came out, it looked very different from the previous time. The last time it had a little bit of yoghurt on top of the potato patties but this time the aloo tikki was smothered in the yoghurt, with some coriander on top. There are 2 of the patties in the serve. I took the first piece and cut into it and the outer shell was very tough. I bit into it and it tasted stall. The outer shell was very tough to bite into and the potato inside the pattie was very dry with very little flavour. I suspect these had been stored in the fridge for a few days and not cooked fresh. They must have been heated in a microwave, as the outer part of the patties was hot but the inside was stone cold. I finished the first piece but didn't touch the 2nd piece.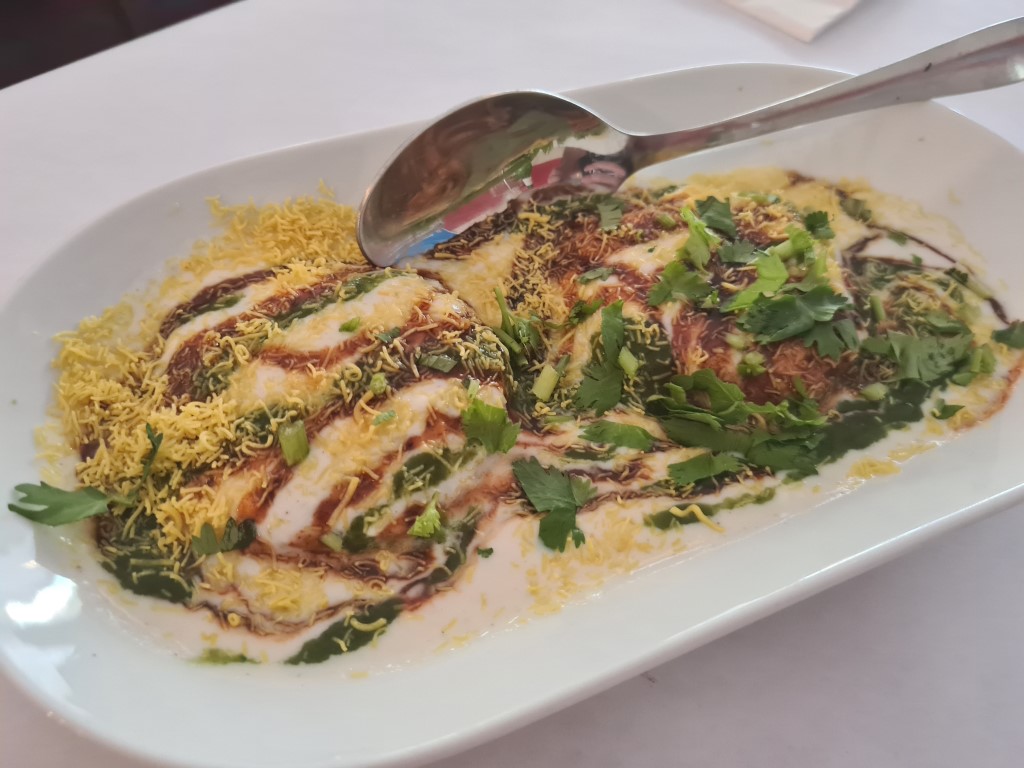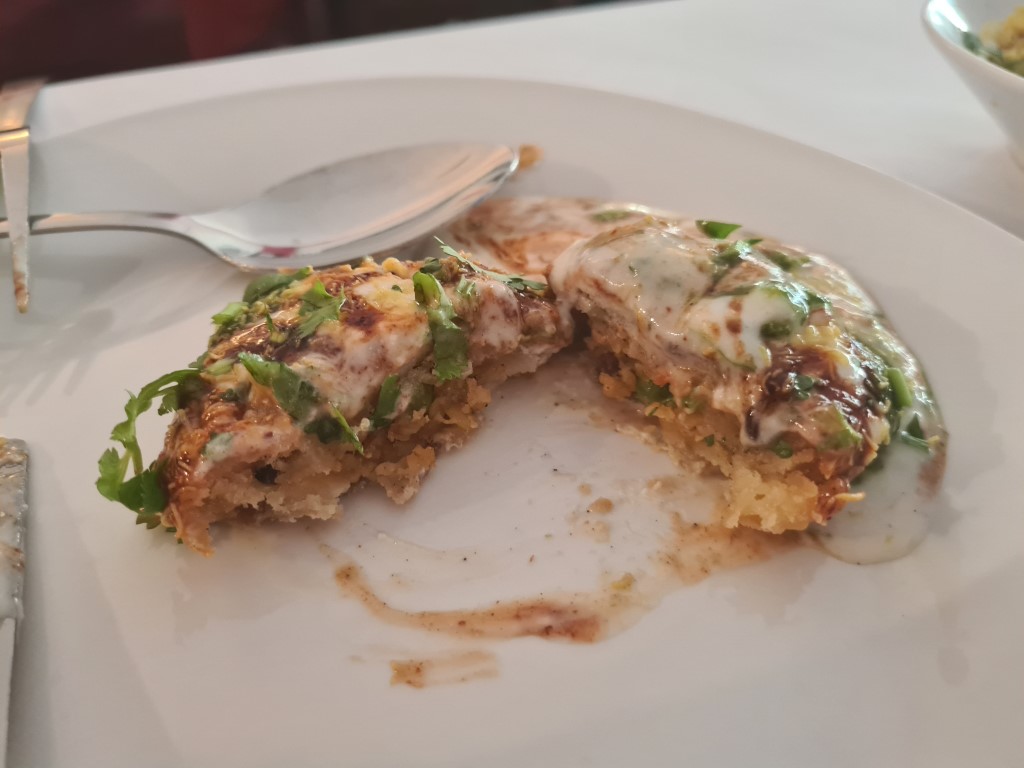 The tandoori chicken came out and looked really good. A nice presentation with the chicken on a sizzle hot plate with steam hissing away. I took the first piece and started eating. This didn't taste right. It was dry, tough and very stringy. Even if you over cook fresh chicken, it would not be stringy and it wouldn't taste bad. This was not good. I ate a bit of this but then just filled up by eating the garlic naan and finished my beer.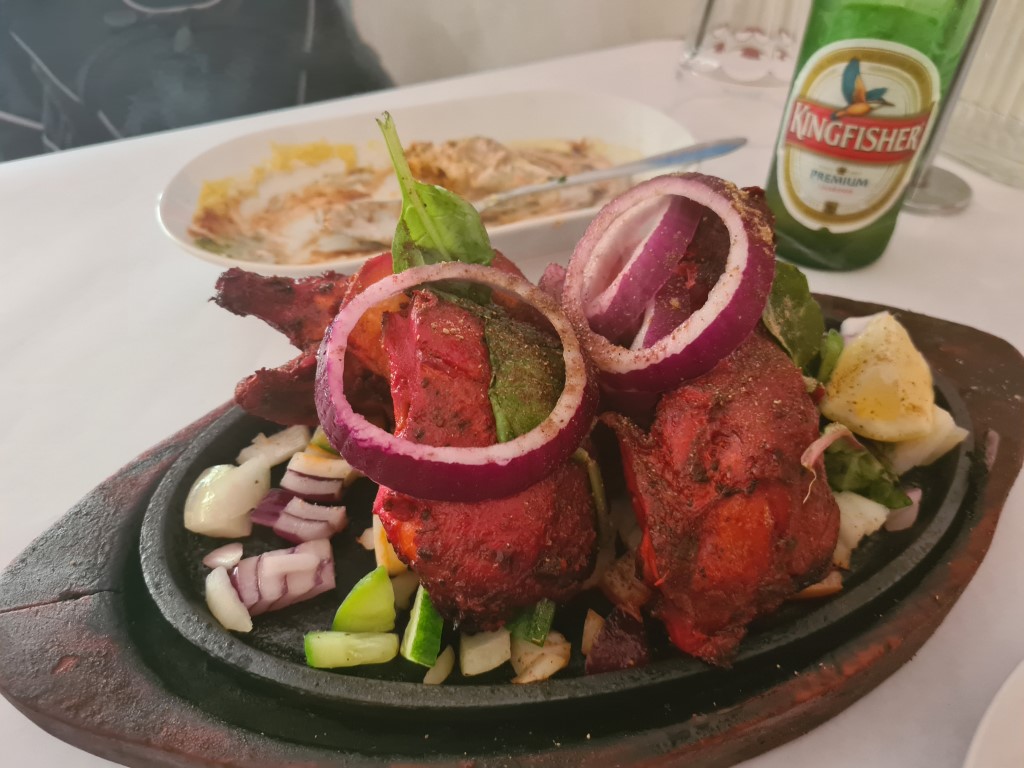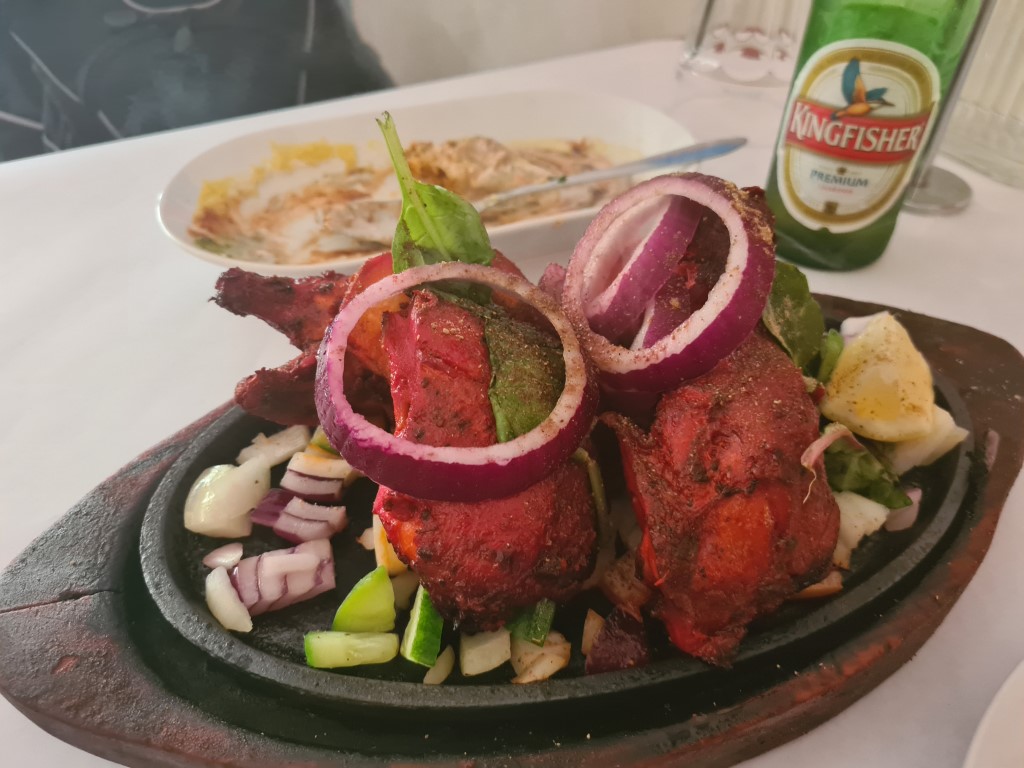 The garlic naan was just ok but if you look at the photo from 2013 above, then you see the garlic naan looked much better, more fluffy with a nice shine.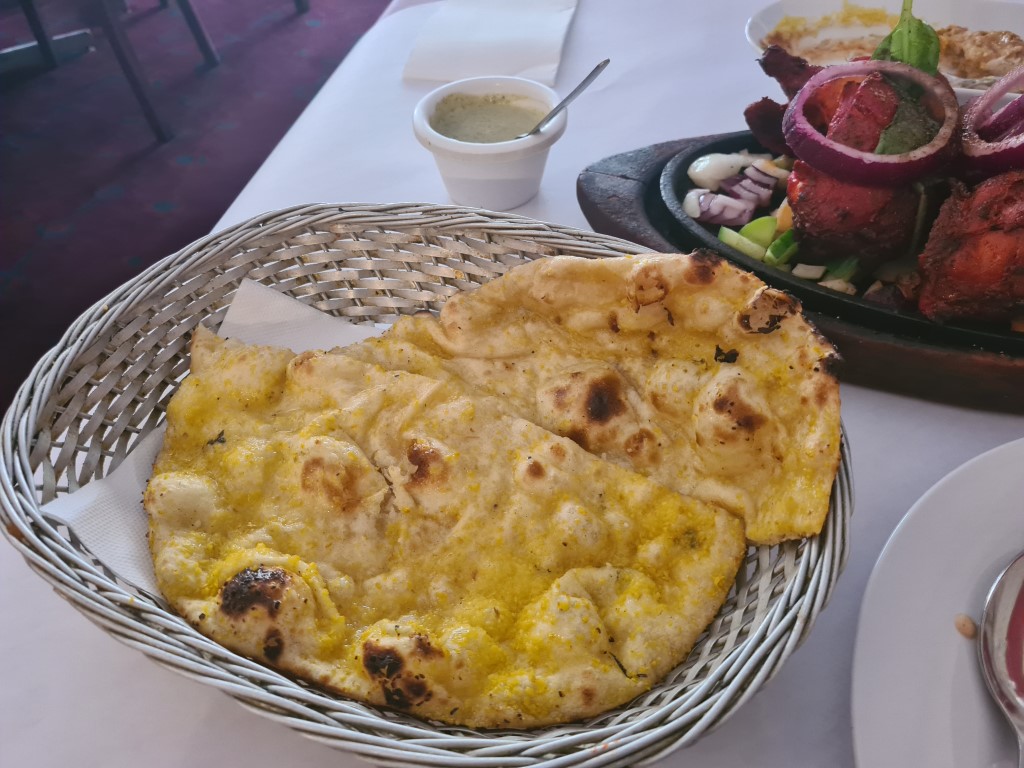 The manager came over and asked how was the food. I honestly told him it was not good. I told him that I thought the aloo tikki was not fresh. Was stall, hard and very dry inside. I told him this was heated in the microwave as it is hot on the outside and cold inside. He seemed to ignore what I had said and he said they make the aloo tikki especially for Punjabi people and this is how they like it with the yoghurt on top. I am guessing they smothered it in yoghurt to try to disguise that it was hard, stall and dry.
I told him the tandoori chicken was tough and stringy and didn't taste as though it was fresh chicken. He just said that he must rectify this and walked off. When I went to pay the bill, he did not offer a discount or an apology. I paid the full amount and he just said again I will rectify this and make sure the kitchen improves. Well I wont be going back to see if they have rectified this! No apology and charging me full price for bad food is not good. I did not feel good about 1 hour after eating it. The feeling went away but the bad taste in my mouth will last forever.
Have you dined at Neelam recently? How was your experience? post a comment below.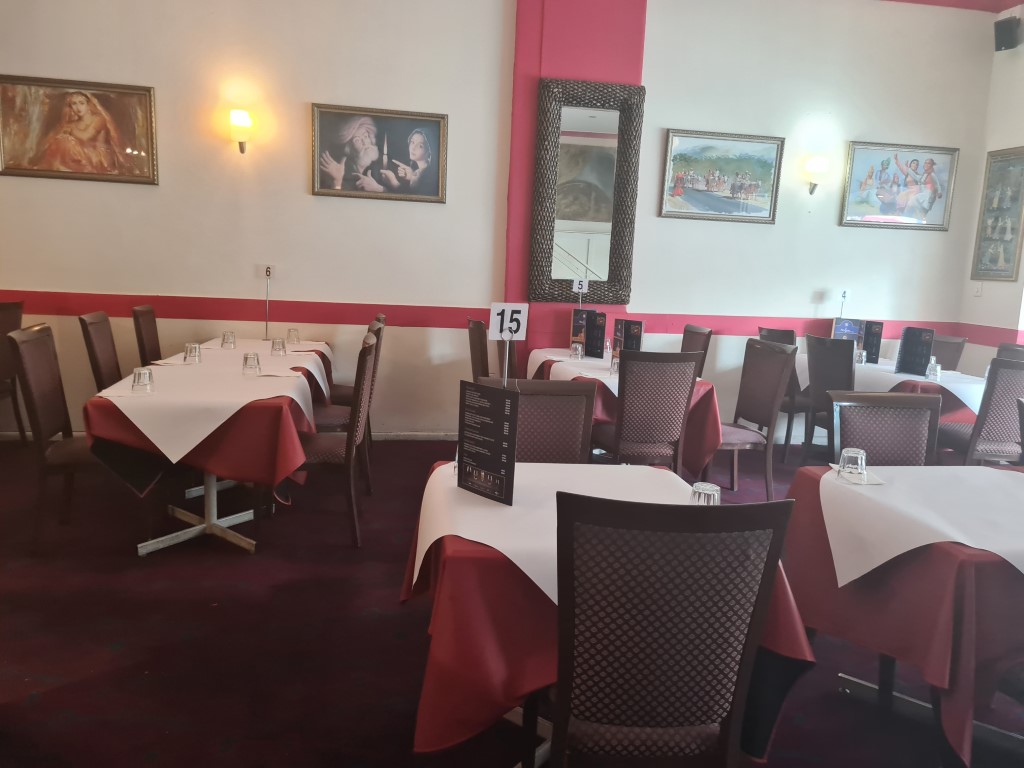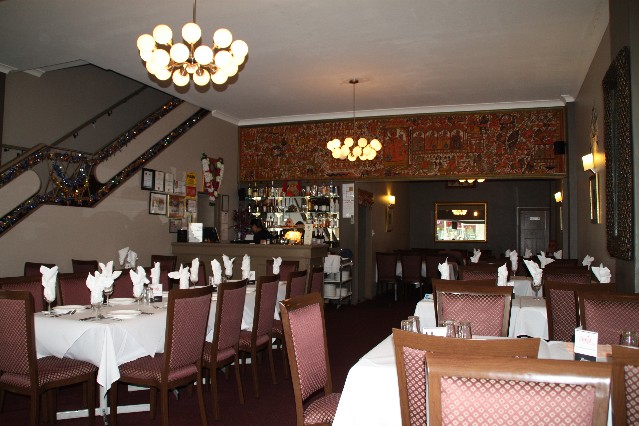 Neelam Indian Restaurant
79 Macquarie Street
Parramatta NSW 2150
Ph: (02) 9635 9476
Website: http://www.neelamrestaurant.com.au/
Open 7 days a week for lunch and dinner 12pm–3pm, 5:30pm–10pm
Check out the location of Neelam Indian Restaurant in Parramatta