Tourist Highlights of Shinjuku Tokyo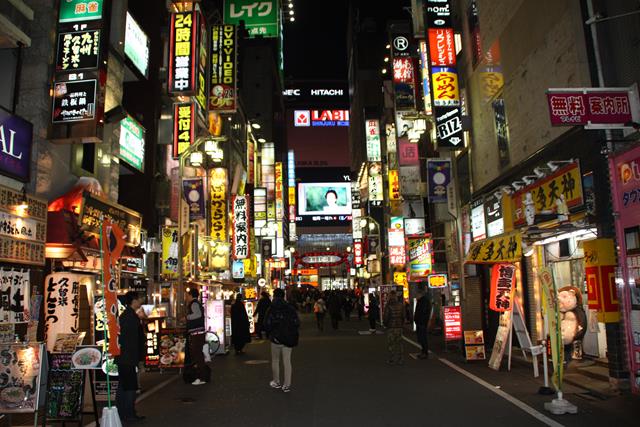 Check out the best tourist attractions in Shinjuku Tokyo.
Shinjuku is one of the busiest commercial and business districts of Tokyo and one of the most popular places for tourists to stay while visiting Tokyo. There is so much to see and do in Shinjuku, you could spend 1 week visiting Tokyo and never leave Shinjuku!
Check out these tourist highlights of Shinjuku Tokyo:
Shinjuku Train Station
Shinjuku Train Station, right in the heart of Shinjuku Tokyo is the busiest train station in the world and a tourist attraction in itself. More than 1 million people travel through Shinjuku Train Station everyday. While visiting Tokyo a visit to Shinjuku Train Station at peak hour is a must. I guess if you are rushing for a train during peak hour then Shinjuku Train Station can be very overwhelming. Make a trip their at your leisure and stroll through the massive train station to watch the huge movement of people travelling to every corner of Tokyo.
Shinjuku Gyoen National Garden (Shinjuku Park)
Located around 10 minutes walk from Shinjuku Station is one of the largest parks in Tokyo – Shinjuku Gyoen National Gardens. The park is over 58 hectares with over 20,000 trees including 1,500 Cherry blossom trees (Sakura). This is one of the best places to come during the Cherry Blossom season (late March – early April) to see the Cherry Blossoms in full bloom. Entrance into the Shinjuku Gyoen National Gardens costs 200 Yen. Shinjuku park is open 7 days a week from 9am – 4.30pm.
Kabukicho Shinjuku – Tokyo Red Light District
Kabukicho is Tokyo's largest red-light district, located on the eastern side of Shinjuku Train Station. It is one of the most popular tourist attractions in Tokyo and is totally safe to visit during the day time or at night. The streets are lit up with huge neon signs that run up and down the tall buildings. Read more about Kabukicho.
Robot Restaurant Kabukicho Tokyo
Now the Robot Restaurant is not a restaurant where you are served by robots! The Robot Restaurant is a must visit themed restaurant, well not really a restaurant, but more a robot cabaret. Located in the heart of Shinjuku's Kabukicho red-light district is a great nights entertainment. I have visited Robot Restaurant twice and would definitely go back. Read more about Robot Restaurant in Kabukicho.
Tokyo Metropolitan Government Building Observation Tower
Located in Nishi-Shinjuku on the western side of Shinuku Train Station is the Tokyo Metropolitan Government Building. The 2 towers both have observation decks on the top floor. The observation decks are 202 meters above the ground and give 360 degree views over Tokyo. The best thing about these observation decks is that it is free to go up. The observation decks are open from 9.30am until 11pm. The southern observation deck closes at 5.30pm.
Check out the video from the Tokyo Metropolitan Government Building
Read more about the Best Views over Tokyo from the Tokyo Metropolitan Government Building
Shinjuku Omoide Yokocho (Memory Lane)
Located right next to Shinjuku Station, on the western side, is Shinuku's famour Omoide Yokocho (Memory Lane). Omoide Yokocho is a set of small laneways which is lined with Yakitori bars, small bars which serve beer and cook up delicious chicken skewers. These laneways have been popular since the 1950s with many Japanese Salarymen popping in for a few beers after work. Read more about Omoide Yokocho.
Golden Gai Shinjuku
Golden Gai is a bar district located between Kabukicho and Hanazono Shrine, on the eastern side of Shinjuku Train Station. Golden Gai is a series of small pedestrian lane ways, lined with tiny bars, each only seating around 6 – 8 people. These bars only have 1 bar tender sitting behind a small bar with seating around the bar for just over a handful of people. The bars in Golden Gai open around 5 – 6pm and are open to very early in the morning (around 4am).
Hanazono Shrine
Hanazono Shrine is a beautiful Shinto Shrine located 10 minutes walk from Shinjuku Station on the eastern side, close to Kabukicho. Hanazono means 'flower garden' as the shrine was built, in the 1850s in the middle of large fields. The shrine is now a tranquil place to visit, surrounded by the bustling city of Shinjuku. Read more about Hanazono Shrine.
Also check out the Best Shinto Shrines in Shinjuku
Samurai Museum
The Samurai Museum is a small museum just at the back of Kabukicho, on the eastern side of Shinjuku Train Station. The museum shows the history of the Samurai warriors in Japan from 1185- 1868. If you are interested in the history of Japan and the Samurai warriors then this is a must visit museum in Tokyo. Great displays and they have a Samurai show every afternoon. If you want to buy yourself a real Samurai sword then this is the place to come as the souvenir shops has lots of reasonably prices Samurai swords and some mega expensive antique swords dating back 400 years. Read more about the Samurai Museum in Shinjuku
Japan Sword Museum
The Japanese Sword Museum is a small museum around 15 minutes walk from Shinjuku Train Station. As the name suggests, the only thing on display are Japanese Swords and information about how the swords are made. I would suggest only visiting this museum if you are really interested in Japanese Swords! Check out the Samurai Museum listed above for a more interesting museum. Read more about the Japan Sword Museum.
Tokyo Camera Town
Right next to Shinjuku Train Station, on the western side, is a small area referred to as Tokyo Camera Town. There are loads of Camera and Electronic stores like the famous Yodobashi Camera store. Here you can buy duty free camera equipment and electronics like laptop computers. The streets around this area is also lined with hundreds of restaurants and bars.
Best Bars in Shinjuku
Shopping Centres in Shinjuku
If you have come to Tokyo for some shopping then Shinjuku is the best place to stay as there are more huge shopping malls in Shinjuku then any other area of Tokyo. Just within minutes walk from Shinjuku Station (some are right next to the station) are some of the largest shopping malls in Tokyo. Check out Odaku, Keio, Shinjuku MyLord, Lumie Est and the massive Takashimaya Department store. Most of these shopping malls have loads of restaurants on the top floors and fresh food sections in the lower ground floor.
Tokyo Korea Town – Shin-Okubo Shinjuku
Located just a short train ride (800 meters) from Shinjuku Train Station is Shin-Okubo which is Tokyo's Korea Town. Korea Town Tokyo started in the early 1980s with loads of Korean immigrants settling in this area and opening lots of Korean restaurants and grocery stores. Korea Town Tokyo is the place to come to try the best Korean food in Tokyo. Read more about Korea Town Tokyo.
Restaurants in Shinjuku
Tripadvisor has 8108 restaurants listed in Shinjuku Tokyo. There are probably lots more that are not listed. If you were to have breakfast, lunch and dinner in a different restaurant in Shinjuku then it would take 2702 days to get to try every restaurant in Shinjuku. That's almost 7.5 years before you dined at every restaurant in Shinjuku!
To make it a little bit simpler to try a good restaurant in Shinjuku check out our list of the best restaurants in Shinjuku Tokyo